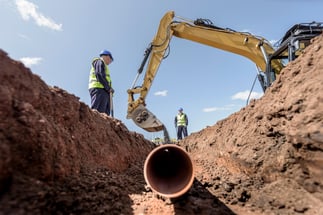 One of the last things you want as a business owner is for your employees to get hurt. Often, workplace accidents can be avoided by implementing and following proper safety procedures and guidelines. We're sharing this large loss claim example to help keep employees safe and prevent workers' compensation injuries.
A construction crew installing underground water utilities had dug a trench that was approximately three feet in depth in one area, and deeper in another area. A trench shield was in place with a ladder to provide safe egress.
An employee was asked by a co-worker for assistance. Instead of moving the ladder from the trench shield and using it to access the shallow area where the co-worker was requesting help, the employee partially slid down the wall of the trench and then jumped to the bottom of the trench, landing awkwardly. The employee experienced immediate pain in his left knee and was unable to bear weight on that leg. The employee was taken to a hospital where an MRI was performed that confirmed an ACL tear and partial MCL tear to the left knee. To repair the ACL tear, surgery and physical therapy was needed. The estimated loss for this injury, which could have easily been prevented, was over $86,000.
Possible Preventive Measures
Employees should be prohibited from jumping down from elevation, e.g. into trenches or off trucks, trailers, and heavy equipment. This prevents unnecessary impact on the joints and soft tissue structures of the body.
While the Occupational Safety and Health Administration (OSHA) requires a safe means of egress for all trenches four feet in depth or greater, it's best to ensure this is provided for all trenches, no matter the depth. Stairs, ramps, or ladders are all considered a safe means of egress when installed and used correctly.
Ensure a safe means of egress is readily available for employees. Under OSHA requirements, a safe means of egress is required to be within 25' of employees. In this scenario, a ladder was in the trench but in a different section, separated by the trench shield. To prevent this incident from occurring, the ladder should have been moved to the area it was needed or additional ladders should have been provided to the crew.
Contact your Loss Control representative for assistance with understanding trench safety requirements.