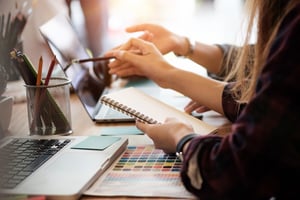 Blogging is a great way to educate your current and potential customers. Sometimes, the hardest part of writing a blog is determining how you want it to look. With what seems like a million different fonts, various color options, and thousands of picture choices, it's hard to determine what's right for your blog. Not to mention, each blog you look at has a different style, making it almost impossible to know if your blog hits the mark. Use these blog design tips as a guideline to help you create your blog.
Determine your font. Picking the right font is key. Try to pick a font that is very easy to read, like Arial or Calibri, and keep that as your main font throughout each of the blogs you write. Having one consistent font will help create a clean and organized look for your blog. If you want your headers to stand about a bit more, try bolding them or making them a different color.
Find your color scheme. Try to determine a few different colors for the copy in your blog and stick with them. It's overwhelming to a reader when each header or paragraph in a blog is a different color – unless of course, that's what you're going for.
Organize your content. To keep your blog organized, try categorizing each of your blogs. For example, if you've written a few blogs about professional development, group them together to make it easier for readers interested in that topic to find other related blogs.
Pick your visuals carefully. Nobody can stand looking at a blurry photo. Try to pick images for your blog that are clear and visually appealing. The photos on your blog should pertain to the content and help relay the message you're trying to get across. It's always a bonus if you can use original photos!
Make it user friendly. Your blog should be organized and easy to navigate. Not sure what that means? Take a step back and look at your blog, would you understand where to go for specific content? Is this a blog you'd want to subscribe to and see more content from? If you're still unsure, ask a college or friend to look for you.
There are so many different things you can do to take your blog to the next level. Sometimes the hardest part is just getting started. Hopefully these blog design tips help you to do just that.