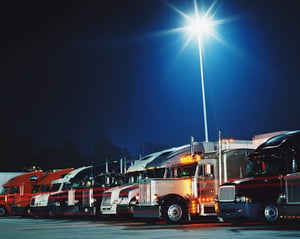 You provide a valuable service for your customers that requires a large investment in your machinery, your employees, and your office equipment. What if one of your employees was injured while on the job, does your business insurance have you properly covered?
A distribution center driver parked his semi-truck and trailer in a parking lot preparing to sleep. While doing so, he didn't engage the parking brake. While in the sleeper berth, the semi-truck and trailer began to roll. The driver jumped up to try and engage the brake, at which time the truck hit a light pole. The impact caused the driver to fall into the driver's seat resulting in a right knee injury that required surgery. The total loss was estimated to be $64,000. This could've been prevented if some semi-truck safety tips were in place.
Possible Preventive Measures:
Educate drivers to always set the parking brake before leaving the driver's seat.
Add reminders for drivers (e.g. stickers on the dash or window clings reminding drivers to set the parking brake).
Implement vehicle pre-departure inspections.
Implement parking alarm systems. These systems alert if the parking brake isn't set and weight is removed from the driver's seat.
As it becomes available, when ordering new trucks, specify automatically engaging truck and trailer brakes.
Contact your loss control representative for assistance in reducing the likelihood of injury to your fleet drivers.