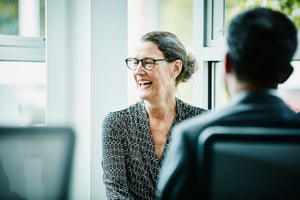 What is emotional intelligence? One definition I recently heard was from a class on managing relationships. The instructor said, "Emotional intelligence is the ability to control your emotions to impact the result in any interaction." This simplified definition piqued my interest enough to make me research and learn more about my EQ - the measurement for emotional intelligence.
In the sales relationship, the ability to control your emotions will allow you to impact the interaction by being in tune to with the emotions of your customers, peers, and potential prospects. Once you develop the ability to tune into the emotion of any interaction, you can have some control of the desired impact and the outcome.
Emotional intelligence is a balance between the rational and emotional brain. How well do we control our emotional impulses to bring a rational solution to a situation? Since most buying decisions are emotional ones, if we could influence the emotional decision with the rational, it could have a huge positive impact on our ability to control the decision.
Emotional intelligence is something everyone has. It can be developed and improved. It's comprised of four core skills that pair up under two primary competencies:
1. Personal competence – your ability to be self-aware and manage your emotions
2. Social Competence – your ability to access other people's moods, behavior, and motives in order to improve the quality of your relationship
The skills of personal self-awareness and self-management can by learned and improved. This is the ability to be aware of your own emotion as it occurs and to manage that emotion to a positive outcome by staying flexible and positively directing your behavior.
The skill of social awareness and relationship management can also be learned and improved. This is the ability to accurately tune into the emotions of others and adjust your emotions to interact in a way that successfully manages the outcome.
I believe we could all benefit from becoming more emotionally intelligent. Studies show that 90% of high-performing leaders and business professionals have a high EQ. As a sales and business professional, improving your EQ could be a benefit.
Here are tips to improve your EQ:
Self Awareness
• Access your ability to manage your stress.
• Learn how you respond by becoming more self aware.
Self Management
• Learn to meditate and control your emotions in situations.
• Stop and listen, avoid filling the silence in interactions.
Social Awareness
• Learn to interpret and develop non-verbal cues.
• Recognize the importance of mindfulness in the social process; be present.
Relationship management
• Learn and practice conflict resolution.
• Use tasteful humor to deflect conflict and relieve stressful situations.
I hope you find this interesting enough to do some research and find some ways to improve your own EQ!
This blog was written by Tami Pohl, State Sales Manager