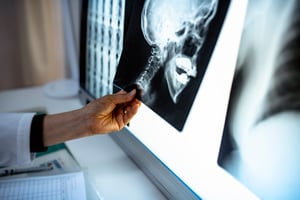 A chiropractic office had an x-ray machine for about seven years. While using the machine, they heard pops, smoke came out of the machine, and it stopped working.
The machine was removed and inspected, and a temporary unit was installed to avoid loss of revenue. During the attempted repair, it was found that the machine had electrical overload and required replacement, because it wasn't able to be repaired.
Equipment is often exposed to different hazards than other property, such as power surges, electrical short circuits, and mechanical forces. Unallocated losses from a breakdown can be very expensive and can significantly affect the bottom line for business owners.
Equipment Breakdown Coverage is an optional coverage that pays the cost to repair or replace equipment or machinery that breaks down suddenly and accidentally. Without this coverage there are standard property exclusions that wouldn't cover a loss like this. Artificially generated electrical current is one of those losses.
Equipment Breakdown insurance provides protection from the costs associated with insured losses to a business' equipment, such as:
Direct property loss – the cost to repair or replace damaged equipment
Extra expense loss when a breakdown causes business interruption
Other expenses incurred to limit the loss or expedite the business restoration
The loss value of spoiled products or materials
In this case, the original value of the x-ray machine was $51,354, less depreciation costs of $15,437 and less the $1,000 deductible, left the actual cash value of $35,917. The chiropractic office was paid $15,437 up front. After the machine was installed, the remaining depreciation costs of $35,917 were paid.
For more information on chiropractor insurance, please contact your independent agent.