During these colder months, many parts of the country are buried in snow and ice. Even in warmer regions, this time of year can bring lots of rain. All this precipitation can result in very slippery floors and entrance areas at businesses and organizations. Slippery floors mean additional slip and fall injuries, both to customers and employees. In addition to slipping on ice and snow outside, indoor falls on slippery floors make up a large amount of the slip and fall injuries West Bend sees spike at this time of year. So, what can business owners do to keep their patrons and employees injury-free this winter?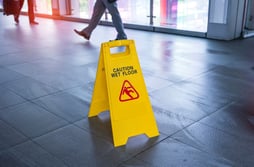 Winter floor safety tips
While some precipitation on indoor floors is inevitable, there are a few steps business owners can take to minimize the risk.
Invest in high-quality entrance mats: Having the right type and size of mats at your entrance can make a huge difference. Mats must be thick enough to absorb a lot of water, but not so thick that they block the doors or roll up. Bunched up mats create another tripping hazard. If possible, rotate through a few different mats, to ensure they don't get too wet and to make them last longer.
Utilize signs: It's always a good idea to have signs posted at every entrance, warning of wet and slippery floors. If there are any other areas of the facility where the floors get slippery, adding signs there as well can be very helpful. Signs tell people what to expect and help prevent injury claims.
Monitor the facility: Entrances should be routinely checked by employees to ensure that mats are properly placed and that nothing is getting too wet and slippery. Checking the rest of the facility for wet and slippery floors regularly is also a good idea; any issues can be addressed quickly before anyone gets hurt.
If a customer or employee does get hurt on a slippery floor, document the conditions at the time and ensure the injured person gets proper medical care immediately. Hopefully by taking a few precautions, your organization can avoid many of these winter injuries.