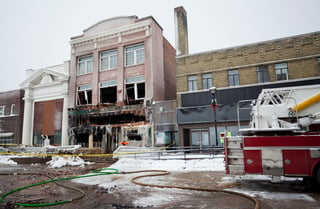 Fire is one of the biggest threats for restaurants and bars. A recent study, completed by the Consumer Product Safety Commission, found that as little as 3% of cooking oil residue left in towels after laundering can spontaneously combust. Fibers in the towels trap oil and grease over time, creating an opportunity for combustion. When people think of spontaneous combustion and towels, they usually think of solvent-soaked towels; however, towels soaked with cooking oil – vegetable or animal – present the same risks and potential loss.
The National Fire Protection Agency (NFPA) estimates that 14,070 fires were caused by spontaneous combustion between 2005 and 2009. Spontaneous combustion is caused by a chemical reaction within the materials; a heat source isn't necessary.
Fortunately, you can implement controls to prevent spontaneous combustion in your restaurant. Here are some strategies to minimize your risk.
Storage
Clean rags should be stored away from dirty rags.
Towels and rags should only be stored in non-combustible containers with closed lids.

Even clean rags should be stored in non-combustible containers due to the residue left on them.
Washing
The best practice is to use an outside service to clean your towels. If this isn't available, only commercial-grade laundering equipment should be used for washing the towels. Grease from the towels can increase the chances of combustion in the dryers.
Pre-soak dirty towels to remove the oil debris.
Use commercial grade detergents designed for removing grease from the towels.
Remove towels immediately after the dryer cycle is complete. Towels should never be left in the dryer overnight.
The towels should be inspected for residue and allowed to cool before folding and storing.