Any employee who handles or uses hazardous substances, like industrial cleaners, pool chemicals, and more, needs proper training on how to stay safe and use these substances properly. Additionally, these employees should receive ongoing refresher training throughout the course of their employment. But how can you keep these trainings interesting and engaging so the information is actually retained? This is a part of hazard communication that's often overlooked. All that information is useless if employees don't remember it!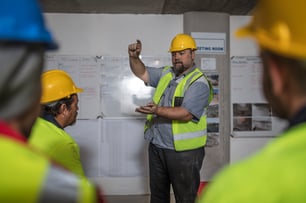 Training tips
Here are several ways to make hazard communication training more effective and interesting:
Utilize small groups: instead of just lecturing or going through a PowerPoint for the entire training, try having small groups of employees present some of the information. Or use small groups for discussion or brainstorming ideas.
Test employees' knowledge: this ensures employees are actually absorbing the important information.
Share case studies and injury information: sharing real examples of what can happen when hazardous chemicals are used incorrectly can help employees understand how serious this is.
Keep trainings shorter and more frequent: information is easier to take in, in smaller chunks rather than in one long lecture.
Encourage questions and interaction: this helps employees pay attention for the entire training.
Role-play or practice different scenarios: training should include emergency procedures. Having employees practice or role-play scenarios and procedures can help them understand.
Another important part of keeping employees safe is to periodically perform checks to ensure they're using chemicals properly. This can also protect furniture, floors, and other equipment at your facility. Using the wrong chemical or using a chemical improperly can damage items. Also ensure that hazardous materials are properly stored and labeled. Making sure employees have all the knowledge they need to keep themselves safe and utilize these hazardous materials properly will go a long way towards preventing injuries and needless property damage.
Other hazard communication references
OSHA hazard communication information