Your customers may be the heart of your business, but your employees are its soul. Gone are the days when a generous salary and robust benefits package were enough to keep employees happy and engaged. In today's hyper-competitive business environment, your employees need to feel valued and appreciated. Otherwise, they may take their talents elsewhere.
Becoming an Employer of Choice
As any recruiter knows, it's not always easy to find good workers, let alone keep them. And that's a significant obstacle to business success because companies rise and fall on the strength of their workforces.
However, building a workplace culture in which employees' contributions are consistently recognized, celebrated, and rewarded will help build your brand as an employer of choice. You'll be better able to attract top talent and build a competitive advantage over your nearest competitors.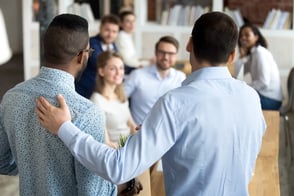 This is based, foremost, on the cultivation of an ethical brand, one which values not only customers but also the employees. For example, promoting employees' success can be built into an overall framework of continuous professional development, as employees are both supported in and incentivized to reach their best and highest potential.
Offering financial bonuses or even social recognition when an employee completes a new training course or certification or attains a degree won't only motivate the employee him or herself but will also set a terrific example for the rest of the team to follow.
Additionally, by promoting and rewarding employee achievement, you'll add a new and important tool to your recruiting toolbox and make your company future-proof. You'll be able, for example, to sweeten the pot for promising candidates by offering targeted learning opportunities and a clear path for recruits to grow their careers and achieve their long-term professional goals with your company.
Supporting Employee Well-Being
When you create a culture of positivity, appreciation, and achievement, you'll also inevitably foster an environment in which employees' well-being, in general, is valued and supported. This is particularly important in the wake of the COVID-19 pandemic.
Today's employees are contending not only with the threat of the virus itself but also with the profound challenges that accompany it, from school closures to job uncertainty to grief over the loss of "normal" life. Employees are likely facing anxiety, loneliness, and even post-traumatic stress disorder (PTSD).
A significant aspect of showing your employees you appreciate them is taking proactive measures to support their mental health, especially in these challenging times. In addition to offering access to mental health care as a component of your company's benefits package, you can also take a more personal approach by routinely "checking in" with your employees, both individually and as a team.
Take time to communicate and to listen. Above all, be flexible. Allow your employees to take time for themselves and their loved ones when needed. And don't forget to model such essential self-care when needed. You might even offer subscriptions for digital fitness courses or coupons for a free spa day. The goal, ultimately, is to remind your employees that you appreciate them and care about their well-being.
The Takeaway
Employee appreciation isn't a luxury. In these turbulent times, it's essential to make employees feel valued and cared for, not just in the recruiting process, but throughout their tenure with your company. In doing so, you're not only going to build a happier, higher-performing, and more loyal workforce, but you'll also build an ethical brand that attracts top talent and makes you an employer of choice.
This post was written by a guest blogger, Noah Rue.