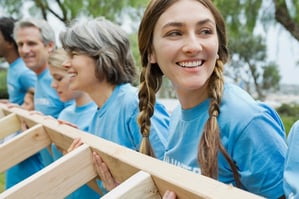 "We make a living by what we get, but we make a life by what we give." -Winston Churchill
There truly is no better feeling than giving back. And if budgets are tight, here are some creative ways for you and your employees to give back without breaking the bank.
Organize a drive. The options are endless: a school supply drive for a your local Boys & Girls Club, a pet supply drive for a local pet rescue, or a food drive for local food pantry.
Adopt a highway or flowerbed. Help keep the community clean or aid in beautification efforts.


Allow employees time off to volunteer in community. Providing paid time off for employees to volunteer in the community boosts company morale and provides a great service to your town.


Encourage job shadows. Mentor high school and college students. Encourage them to learn about specific jobs, while experiencing your organization and its culture.


Serve on a community board. Provide your skills to a non-profit board that can benefit from your time and efforts.


Host an onsite blood drive. Allow employees to donate during work hours. Did you know that just one pint of donated blood can save up to three lives?


Form a walking/running team for 5k. The company can sponsor their employees to participate and usually get some free PR.


Jeans day. Allow employees to pay a nominal fee to wear jeans on a specific day and then donate the funds to a non-profit in your area.


Cook for those in need. Provide nourishing meals for a community shelter by sharing your culinary expertise. If you're not the best cook, you can help deliver the meals or serve food at the shelter.


Shop local. Celebrating a special day or providing an afternoon snack for your employees? Shop local and support small businesses in your community.


Share on social. Share posts and events of your non-profit community partners on your social platforms to help spread the word.


When you build a culture of giving, it'll extend far beyond your organization. We've seen it in countless ways with our associates. I challenge you to start giving back today!