Did you know there's a simple maintenance plan you can implement to prevent expensive and potentially dangerous problems with your building's electrical system? Electrical panels don't often show any signs that something is about to go wrong until it's too late. Infrared thermography scans can help identify issues so they can be fixed before a costly outage occurs.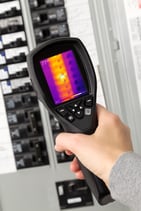 What is Thermography?
Infrared "thermographic" scans are thorough assessments of a building's electrical service panels and subpanels. These scans find heat patterns or temperature differentials in the panels. These heat patterns may be an indication of a loose connection, overloaded circuits, damaged insulation, or friction within the service panels. The scans are performed by a qualified inspector with an electrician present.
West Bend recommends doing these scans every three years to catch issues prior to an outage. Read through our PDF for more detailed information about how these scans work, how to schedule one, and a success story from a policyholder who caught a critical issue early and was able to repair the electrical system before things got any worse!