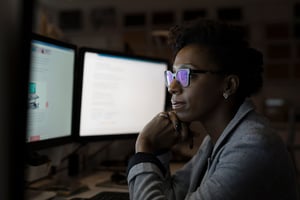 Determining the right insurance coverage for your business can be tricky, and you're probably wondering, "how can we be prepared for the unimaginable". We've outlined some claim examples to help you understand and hopefully simplify some of these situations
for you.
The business next to yours had a water line burst causing water to travel under the wall and damage one of your workstations. The carpet in your business needed to be cleaned, some baseboards needed to be replaced, and the workstation needed to be repaired. The total damage to the baseboards and flooring was determined to be $1,000. You chose to update/upgrade the baseboards and flooring with materials valued at $1500. After reviewing your lease agreement, it is determined that you are responsible for your betterments and improvements including flooring and baseboards. Because of that, the amount covered by the claim for those items is $1000 and you are responsible for the additional $500 for the upgraded materials. The total amount of the claim was determined to be $1350 by adding the cost of labor for professional carpet cleaning, materials and labor for baseboards, and for professional repair labor costs for the workstation. After your $500 deductible, $850 was issued cover the damages.


While driving the company car, one of your employees hits a guardrail; luckily nobody is hurt. The car, however, has some significant damages. The total damages to your vehicle were $4500 and to the county property (guardrail and fence) were $5500 – totaling $10,000 and after your $500 deductible, $9,500 was issued.


You receive an email from whom you assume to be a customer asking to wire some money. After you complete the wire, you receive an invoice, reassuring you the request was legitimate. Later, you find this was a scam. This claim was denied because no cover applies to due fraudulent schemes, tricks, or false pretense.
We hope these examples provide you with valuable information and help you understand why it's so important to ensure your business has the right coverage. Speak to your independent agent today to discuss coverage options for your business.