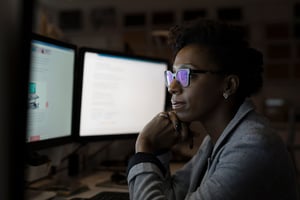 Determining the right business technology insurance coverage can be tricky. You're probably wondering, "how can we be prepared for the unimaginable?" We've outlined some examples to help you understand and to hopefully simplify some of these situations for you.
The business next to yours had a water line burst causing water to travel under the wall and damage one of your workstations. The carpet needed to be cleaned, some baseboards needed to be replaced, and the workstation needed to be repaired. The total damage was more than $1,000 and after your $500 deductible, $850 was issued to cover the damages.
While driving the company car, one of your employees hit a guardrail; luckily, nobody was hurt. The car however, had some significant damages. The total damages were more than $8,000 and after your $500 deductible, $7,500 was issued.
You received an email from someone whom you assumed to be a customer asking you to wire some money. After you completed the wire, you received an invoice, reassuring you the request was legitimate. Later, you found out it was a scam. This claim was denied because no coverage applies to due fraudulent schemes, tricks, or false pretense.
We hope these examples provide you with valuable information and help you understand why it's so important to ensure your business has the right business insurance policy. Speak to your independent agent today to discuss coverage options for your business.