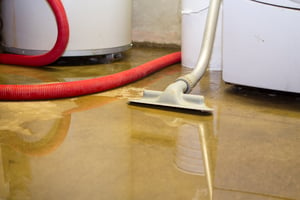 Heavy rain fell overnight and caused the sump pit or well to overflow when the pump failed at a law firm located in the lower level of a building. The building had been renovated before opening the firm. Luckily, the owner had requested the Water Backup and Sump Overflow Coverage endorsement be added to his business policy when it was first written. Water Back-up and Sump Overflow, a specific addition to your insurance policy, allows payment for direct physical loss or damage to a covered building, to business personal property, and to personal property of others. It also adds coverage for Business Income and Extra Expense due to water damage from a sump pump or related equipment, as well as water or sewage that backs up from the sewer line or drain. The limit on this policy was $5,000 minus a $500 deductible. Other limits may be available depending on your policy and your insurance carrier.
A restoration company came in to mitigate the damage, which included repair and drying costs for improvements to the property and other contents that were destroyed. Their estimate totaled $7,500. This was $2,500 over the policy limit that was purchased ($5,000).The maximum amount of $5,000 (the policy limit) with the $500 deductible applied to the entire loss amount for a total of $5,000 paid. The business owner was responsible for the extra $2,500 over the policy limit. The repair work was completed and the law firm was back in business shortly thereafter.
Loss Prevention Tip:
Each spring follow these sump pump maintenance tips to ensure yours works properly.
Remove the cover.Check the pit or sump well for debris, such as mud, rocks, or gravel.
Flush the system.Ensure proper pump operation by flushing out the system with water from a hose or bucket of water. When the pump turns on, listen for any strange sounds. The pump should run smoothly. If it doesn't, that could signal worn or damaged parts. Contact a local plumber immediately for service.
Inspect the float switch.As water fills the pit, make sure the float travels freely on the float rod.
Inspect the discharge pipe.Before major rain, make sure the discharge hose is free from debris or obstructions, such as mulch, mud, stones, or rodent nests. Ensure that the discharged water runs away from your foundation.
Inspect the check valve.Make sure your sump pump has a 3/16 relief hole in the riser pipe between the pump discharge and the check valve. This prevents check valve air locks and greatly extends the life of your pump.
To learn more about lawyer insurance, contact your independent agent today.