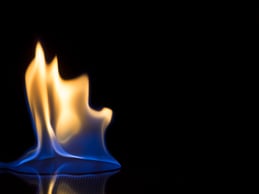 While on Facebook, a headline by the Beaver Dam Fire Department caught my eye: "Oily rags are causing fire – again." I learned last year, only because of working at West Bend, that oily rags can combust and start a fire. My colleague, Scott Stueber, wrote this great blog post about using oil-based stains in your home and how to store and dispose of oily rags. The instance described by Chief Mannel below is related to cooking oils. He shared the following:
A local bar/restaurant in Beaver Dam recently had a very close call. There was a slight smell of smoke and patrons were complaining of burning eyes, so they called the fire department. While investigating the source of the odor with a thermal imaging camera, firefighters noticed a stack of cleaning towels was a little warm. When the firefighters disturbed the stack of towels, they started on fire! Since having a stack of towels burst into flames right before our eyes isn't something we see every day, we investigated further.
We learned the proprietor had laundered the towels earlier in the day at the local laundromat. The towels had been used to clean-up the food preparation area of the kitchen. The towels were then folded and stacked at the business for future use. Nothing unusual, right? Wrong!
As with every fire, there are several things that happen to cause combustion. Everyone knows fire needs heat, fuel, and oxygen to occur. The towels are obviously the fuel. The oxygen was limited until the firefighter separated the towels providing unlimited amounts of oxygen. But where did the heat come from?
The heat was produced from the break down oxidization of the remaining cooking oil in the towels. Decomposing organic material, such as animal and vegetable-based cooking oil causes heat. Most people don't realize cooking oil is moderately to highly susceptible to supporting spontaneous combustion. Ask any farmer about storing wet hay – as it dries out, it decomposes and causes heat and fires. If the heat isn't allowed to dissipate it can rise high enough to ignite combustibles. Oils used in the automotive industry are also susceptible to spontaneous combustion. There are several reasons this has become a problem as of late:
Modern, high efficiency washing machines do a good job on most items, but not on soiled rags and towels containing cooking oils, especially when cold water is used. This actually locks-in the remaining oil (as little as 3% oils can be a problem).
The type and amounts of detergents commonly used on ordinary fabrics don't remove all of the oil. Enough oil remains to support spontaneous combustion.
Heat from drying the towels jump-starts the heat build-up process, especially if the drier is set on "high," and/or the freshly laundered towels are folded or piled into a laundry basket before cooling.
Follow these tips to prevent fires:
Pre-soak towels and rags as much as possible.
Launder towels and rags in commercial extractor washing machines.
Thoroughly clean the towels and rags. Wash twice if needed. Use a commercial cleaning service. Commercial formulas and solvents are considerably better in removing residual oils.
Use hot water.
Use proper detergent in directed amounts – don't skimp!
It's best to air dry them on a clothesline. If you must use a dryer, dry on medium heat.
Allow towels and rags to cool after drying.
Remove items from dryer as soon as the cool down cycle is completed.
Store towels and rags in metal cabinets with air flow.
Dispose of heavily soiled rags and towels.
Heat must be allowed to dissipate in the drying process. Allow rags and towels to cool to room temperature before folding. Piling in a laundry basket is as bad as folding. Following these simple precautions will help prevent accidental fires in your home or business.
Our most sincere thanks go out to the Beaver Dam Fire Department, especially Chief Mannel, for sharing this valuable information!
Here are some other great resources to avoid a fire from improper storage or cleaning of oily rags:
Safety with Oily Rags Wet with Flammable or Combustible Liquid.
Oily Paint Rags Can Spontaneously Combust
Do you have any tips or information you'd like to share? I'd love to hear them; please share them in the box below.