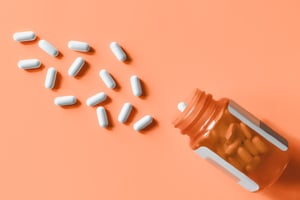 According to the National Council on Compensation Insurance (NCCI), on average, prescription drug costs make up 13-14% of an overall workers' compensation claim. Even though the rate of usage has declined, the price of prescription drugs continues to rise.
The use of narcotics to treat a work injury may result in an increased number of physician office visits, extended disability periods, and treatment for adverse side effects, including addiction. In some situations, the use of narcotics may eventually result in overdose and death.
According to the National Institute on Drug Abuse (NIDA), more than 130 people in the United States die from opioid overdoses every day. The Center for Disease Control and Prevention (CDC) reported that in 2017, more than 70,000 people died from drug overdose, making it a leading cause of injury-related death in the United States. Of those deaths, almost 68% involved a prescription or illicit opioid. The CDC further estimated that in the U.S., the total "economic burden" of prescription opioid misuse alone is $78.5 billion a year, including the costs associated with healthcare lost productivity, addiction, treatment, and impact on the criminal justice system.
At West Bend, our Workers' Compensation Claim Department has proactively taken on this serious epidemic through the 2012 implementation of our narcotic intervention program, WEAN (Warn, Educate, and Act on Narcotics). WEAN was designed to ensure patients have safe and effective treatment, while reducing the risks of opioid use. Our focus is to mitigate narcotic use in an effort to prevent abuse and addiction.
Our WEAN program provides the claim representatives with an enhanced knowledge of narcotics for obtaining better outcomes by educating and communicating effectively with injured workers, insureds, and treating physicians. Success of this program is consistent execution of well-defined strategies during all phases of the claim process. Early intervention is key, along with clear communication, close monitoring, and use of tools and resources to mitigate narcotic usage. The WEAN program also includes the use of drug screens, narcotic contracts, close monitoring of narcotic usage, statistical data, educational letters, nurse case management, and peer-to-peer reviews with our consulting physicians. The mission is to facilitate favorable outcomes while restoring the quality of life of our injured workers.
West Bend strives to differentiate itself from the competition through quality claim management and superior claim outcomes. The WEAN Program is just one of several strategic focus programs West Bend uses to achieve great outcomes and be your carrier of choice.
This blog post was written by Anne Loehr, Claims Manager, Workers' Compensation. Anne has been with with West Bend for over 20 years.