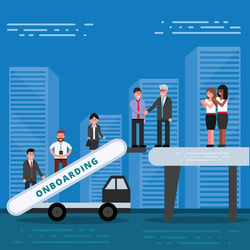 First impressions are important. Time, effort and budget all go into finding the right person for the job. And, once you do, keeping him/her is key. No matter the size of your company, a smooth onboarding process will help your employees feel welcomed and poised for success. Here are some simple ways your company can excel at onboarding.
1. Welcome packet. A few weeks before the start date, send employees a welcome packet of information detailing what to expect on the first day. Include an agenda, map of the building indicating where to park, paperwork that can be filled out ahead of time and a token of your appreciation. This could be a simple welcome card from their soon-to-be manager or a piece of branded company swag.
2. Prepare their workstations. Order business cards, office supplies and such to ensure they have what they need right away. A welcome sign or card is always a nice touch.
3. The big day. You can make this as grandiose as you want. The process should reflect your company culture and brand. We recently started rolling out the red carpet. A red carpet dons the floor with a personalized welcome sign that leads into the conference room where our new associates spend a good portion of their first day during orientation. It's simple, yet impactful.
4. Provide a tour of the building. Be sure to point out the restrooms, kitchen/cafeterias, vending machines, and most importantly, where to get a cup of coffee. Introduce the employees to key executives, managers and co-workers while walking around the building.
5. Assign a mentor to your new hires. Having an established contact in the building will help ease the transition. Arrange a few lunch meetings for them to chat and provide a chance for new employees to ask questions.
6. Follow up and feedback. These two things are essential to continually improving your onboarding process. Reach out quarterly during the new hires' first year. Make them feel valued and not forgotten about after their first weeks or months.
Happy employees are more productive employees. Start them off on the right foot by providing a solid and well thought out onboarding process.