While ringing in 2021 certainly looked different than any other year, people are still making new goals and resolutions. Many of these new goals are fitness-related, and gyms typically see a large spike in new members during the first few months of the year. Even if gyms are closed or restricted due to the pandemic, it's likely that once these restrictions are lifted there'll be a lot of new members with new fitness goals filling up their local gyms and YMCAs. Unfortunately, we also typically see a spike in injuries with new members as well. So how can gyms keep everyone safe, while also helping them achieve their goals?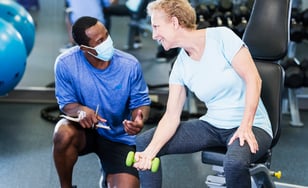 Keeping Your Gym Members Safe:
Offer all new members an orientation and document if they refuse. This orientation should go over rules of the facility and demonstrate how to safely use all equipment that the member is interested in using. If the member declines, make sure to have this in writing.
Ensure class instructors are demonstrating proper technique and helping members as needed. Fitness instructors should be helping members set up their equipment properly (for example helping adjust a spin bike) prior to class and walking around throughout the class to ensure members are doing the exercises correctly and aren't putting themselves at risk of injury.
Have staff members walking through weight and cardio areas to check that members are using equipment appropriately and safely. Train staff members on what to look for and how to help members use equipment and machines properly.
Post rules for all areas of the facility and enforce these rules with all members. This is especially important for facilities that have open gym times, where members can play pickup games of basketball or other sports. Many injuries result from these types of games.
Regularly check fitness equipment for safety issues and take immediate steps to address any broken machines or equipment. Make sure any machines that are out of service are clearly marked as such.
If possible, run specials on personal training. Personal trainers can help new members achieve their goals in safe ways. Even a few personal training sessions can help people learn proper technique for their workouts and give them ideas.