From a young age, you've loved animals so deciding to become a veterinarian came naturally and without question. You studied feverishly to become the best you can be to care for those furry companions that fill your heart with joy. Your education will serve you well while you perform wellness exams, stitch up lacerations, treat allergic reactions, and remove foreign bodies. But do you know what veterinarian insurance coverage you need?
Veterinarian and Owner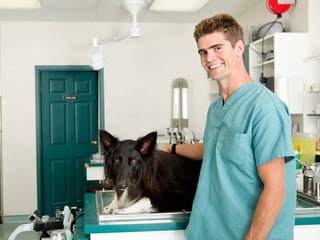 Most veterinarians would rather handle canine influenza than determine their insurance needs. With West Bend's SMARTbusiness policy, however, we take the guesswork out of the equation. Comprehensive coverage is what you need to protect your practice and your building, as well as your personal property and equipment.

Here are just a few of the many property coverages found on the SMARTbusiness policy for veterinarians:
Equipment Breakdown covers damage, including mechanical breakdown, to your cooking, refrigeration, heating, lab, radiography, and sonography equipment. It also includes up to $50,000 for food spoilage as a result of a breakdown of your refrigeration equipment. Higher spoilage limits are available.
Business Income provides coverage for the actual lost income and expenses you incur as a result of a covered physical loss to your property. Coverage is provided for up to 12 months without a dollar limitation.
Peak Season Coverage provides an automatic 25% increase in coverage for your business personal property when you have more inventory on hand. There's no additional premium charge.
Coverage for Animals provides $5,000 of coverage per occurrence for animals owned by your clients while in your care, custody, or control for treatment, boarding, or other veterinary services. Higher occurrence limits can be purchased. A $5,000 limit per animal applies.
Data Compromise allows you to be ready to quickly and responsibly respond to a data breach that otherwise could cost you your customers' trust and business reputation.
Coverage for liability and associated defense costs is essential for your business. The SMARTbusiness policy provides a wide variety of coverages needed to protect your business including:
Premises Liability provides coverage for the liability exposure that develops from your normal ownership, maintenance, and use of premises, and from the conduct of your business' operations. Coverage is also included for defense costs.
Products Liability provides coverage for the liability you, as a merchant, may incur as the results of a defect in a product you sell. Coverage is also included for defense costs.
Damage to Premises Rented to You provides coverage for damage to premises you rented from others and for which you are held liable.
Veterinary Professional Liability, including $5,000 coverage for License Defense. Professional liability provides protection for potential negligence claims by your customers or clients related to your professional services. License Defense provides coverage for expenses resulting from a professional license review conducted by a government bureau, board, commission, or department.
Your SMARTbusiness policy also protects your business from losses caused by crimes, such as robbery, burglary, and employee dishonesty. Here are just some of the essential crime coverages:
Money and Securities provides $10,000 of coverage on your premises or $5,000 off your premium against "all risks" of loss or destruction of money and securities, other than employee dishonesty and forgery. It also covers loss of other property damage to your premises due to burglary.
Employee Dishonesty provides $5,000 coverage for a loss caused by the dishonest acts of your employees. This includes misappropriation or embezzlement while acting alone or in collusion with others, coverages that are normally excluded from crime policies.
Forgery and Alteration provides $5,000 coverage for the false or fraudulent making or altering of a written instrument. It also includes coverage for the illegal signing of another's name to a document such as a check.
Optional Coverages
In addition to the many standard coverages already included, you have the opportunity to enhance your insurance program with an abundance of optional coverages that provide even greater protection, including property, liability, employee theft, electronic data liability, computer fraud, and more.
Contact your independent insurance agent about West Bend and how we can help protect your business.