With many schools utilizing virtual instruction this year, kids are spending more time than ever online. Many organizations like YMCAs and childcare facilities are also caring for more school-age kids than normal, including assisting with their virtual school day. Thankfully, the internet is full of resources to support learning. Without this, many children would be left behind during this health crisis. But for organizations responsible for kids during the many hours they spend on the internet, there are a few issues to keep in mind.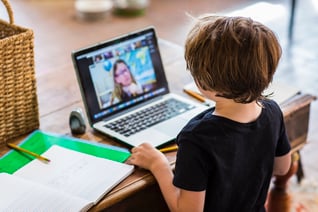 It's important to be aware of some of the dangers on the internet for children. Unfortunately, there are many adults who attempt to prey on children online through social media messaging and other channels. Children unknowingly can expose personal information, making it easy for adults to target them. Children themselves are also perpetrators of cyberbullying, which can take place at any time due to the nature of the internet. Of course, much of the responsibility to keep kids safe online falls to their parents, but when organizations are caring for children throughout the day, staff must take on that responsibility.
The most important thing for staff members monitoring children during their virtual school day is to ensure they are properly supervised. Staff should be walking around as much as possible to make sure children are on appropriate sites or engaged with their teachers at school. Many issues arise if children can use the internet unsupervised. Teaching kids about safety on the internet and how to protect themselves and their personal information is also a good idea. Making sure inappropriate and problematic sites are blocked on facility computers will also help keep children safer. Finally, staff should make sure kids are getting lots of breaks throughout the day to get them off their computers.