A successful workers' compensation claim begins with a thorough investigation of the accident or injury. A great investigation requires a partnership between your organization and your claims adjuster. Your organization begins the process by promptly reporting a new claim, and you also play an essential part in the onset of our investigation.
An accident site is difficult to recreate. Over time things change at the site either due to weather, cleanup, or just daily life. Together, you and your adjuster can work quickly and efficiently to gather and preserve all the surrounding facts of an accident or injury. These facts assist with determining compensability and identifying any subrogation opportunities. Even if a claim appears minor, it can develop, and the facts collected during the investigation may become very important.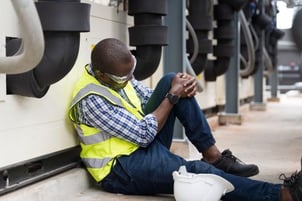 The adjuster and your organization can work together to:
Secure photos of the area, items involved, or damage, including measurements if necessary. For example, the injured worker slips and falls on ice. This area will change over time and photos help preserve the scene at the time of the fall.
Secure video footage of the incident if available. If a vehicle is involved, determine if there's any onboard video footage.
Report any incidents that didn't occur on your premises to the company where they occurred. The location may have video footage. It's important to secure the video footage early before it's no longer available.
Complete an Incident Report. This helps memorialize the information at the onset of the claim. You may have your own form, or for West Bend policyholders, the Management Accident Investigation Report and Employee Accident Report are included in the Workers' Compensation Claims Kit.
Obtain a recorded statement from the injured worker to document the details of the incident and any additional information to assist with claim management.
Secure written or verbal witness statements. A Witness Report of Incident form is included in West Bend's Workers' Compensation Claims Kit.
Determine if a police report was generated, and if so, secure a copy of it, including their full investigative report.
Put together a map of the route and evaluate for any deviations for auto accident claims.
Identify all parties involved and secure their contact information.
Secure applicable contracts if other parties are involved.
Have a field investigator visit the accident site to secure additional photos, statements, and evidence in severe or complex situations.
If machinery or other equipment are involved, here are some additional investigative steps we can take:
Provide the make, model, serial number, and age of the machine or equipment.
Secure any manuals for the machine or equipment.
Determine if the equipment was purchased new or used. Provide the name and contact information of whom it was purchased from. Also include any receipt or proof of purchase.
Advise if any modifications have been made.
Provide maintenance information and records. If another party provided the maintenance, provide their name and contact information including any service orders or receipts.
Preserve the machinery or equipment to prevent spoilage. This may involve taking it out of operation if possible.
Have an expert examine the machine or equipment to determine the cause of the incident and if any defects contributed to the incident.
Great claim outcomes begin with prompt and strong investigations. Your organization and your adjuster share this goal, and the best way to achieve it is with collaborative effort. A timely and thorough investigation helps ensure the correct compensability decision is made and any potential subrogation opportunities are preserved.