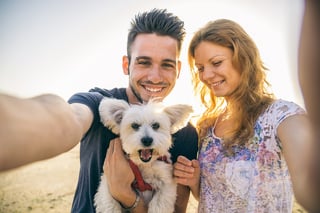 Cats dressed as sharks riding Roombas. Huskies howling "nooooooooo" when their owner wants to leave. Amazing rescue transformation videos that make us all cry. These videos are some of the most shared and loved content on social media. Social, in fact, is a perfect venue to share your veterinary business.
Social media allows business owners to strengthen existing relationships and reach new prospects. It gives you an opportunity to demonstrate your expertise, while being part of conversations that may already be happening on social. Here are some content ideas for veterinarians to promote your business:
Educate. This may seem like a no-brainer, but provide your clients and prospects with great information that will benefit them and their pets. Include reminders about dangerous foods, information about vaccines, dog bite prevention, money tips for caring pet owners, chronic disease awareness, and what owners should know about anesthesia, and the list goes on …
Ask a vet. More than 8 billion videos or 100 million hours of videos are watched on Facebook every day. An easy way to promote your staff and expertise is to hold a Facebook live video chat where viewers can ask the vet a question. Live video allows you to interact directly with your audience, answer questions, and discover new, potential clients. Be sure to advertise you're going live a few days before and post another reminder an hour before. Find more information on using Facebook Live here.
Poll your audience. Asking questions is a simple way to engage people. Create a poll for your followers to respond to. For example, ask a simple yes/no question like, "Will you be dressing your pet up for the holidays?" Have them vote and submit a photo.
Guess the breed. When cute pups or kittens come in for their first visit, ask the owner if you can post their photo. Ask your followers to guess the breed. Fun interaction will follow. Plus, who doesn't love seeing baby animals? You should get lots of reactions!
Staff appreciation. Celebrate the days that praise your employees – Vet Tech Day and World Veterinarian Day, for example. Publicly thank your staff and show your appreciation. You could also highlight a staff member each month.


Success stories. With pet parent approval, feature pets you've helped save. You can educate clients about accidents and/or diseases while showcasing your abilities and bedside manner. Be sure to include before-and-after photos, when possible.


Community. Any time you participate in a community event or donate to a fundraiser, you can help raise awareness on social while giving yourself a well-deserved pat on the back.


Lost and found pets. Help advertise local lost pets on your social channels. And, when reunited, be sure to post a "back home" update.


Lookalikes. I love this one. Do you have any staff members or clients whose pets look just like them?


Blog. Do you have a blog on your website? Promote every entry on your social media channels to drive traffic back to your website.


Special offers. Offer a special on dental cleanings in February to celebrate Pet Dental Health Month. You can coincide offers with events on the National Day Calendar.
Keep the word "edutainment" in mind while posting content on social. A great mix of education and entertainment will keep people coming back for more.
Resources:
https://www.socialmediatoday.com/social-business/50-social-media-video-marketing-stats-2017-infographic