Stories about cyber security and companies getting hacked are a constant in the news cycle. Both small and large businesses are at risk of attack by cyber criminals. All businesses that maintain data on their customers or employees have a duty to protect that information. Say your organization does everything possible to prevent a data breach or cyber attack, but one still happens. You will need an insurance solution designed to help you respond to all types of cyber incidents including threats of unauthorized intrusion, damage to data and systems from a computer attack and cyber-related litigation.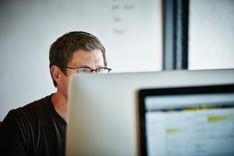 Cyber security claims examples
West Bend offers Cyber Suite coverage to protect your business from this kind of attack. Cyber Suite is a comprehensive cyber insurance solution that's designed to help your business respond to a variety of cyber threats. Here are a couple of examples of how Cyber Suite can help protect your valuable business:
A business experienced a cyber attack that compromised its servers. The criminals launched a ransomware attack against every email address in the business's contacts. Many of the contacts filed lawsuits claiming that the business failed to secure their information. Luckily, the business had coverage to hire lawyers to defend themselves and settle the cases.

While working, a business owner received a strange pop-up on his laptop. A ransomware virus locked his system until an extortion demand was paid. The business owner consulted with his insurance agent and paid the ransom. Thankfully, he had coverage for his loss.
Don't get caught unprepared for these types of cyber issues; no business is immune. Data breaches and cyber attacks can cost your business thousands of dollars if not more. Contact an independent agent to ensure your business is adequately protected.
This article is intended for general educational and illustrative purposes only and should not be construed to communicate legal or professional advice. Further, this article is not an offer to sell insurance. Please consult with your licensed insurance agent for specific coverage details and your insurance eligibility. All policies are subject to the terms, conditions, limitations, definitions, and exclusions contained therein.