In the spring, many youth-serving organizations begin to offer new and additional sports programs for children. Parents are eager to sign their children up for new activities after the cold winter months. Preparing for these new programs can be a daunting task and organizations should do some preparation to ensure their staff members are ready to take on these additional programs.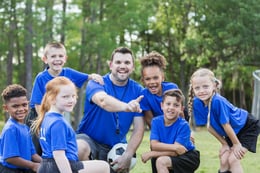 Facility preparation
If your organization's spring sports programs take place outdoors, it's important to have staff members inspect all fields and any areas that will be used for the youth programs. Ensure there's no debris or trash left over from the winter months and that any outdoor equipment, such as soccer goals, are still in good condition.
If the sports programs take place indoors, it's still a good idea to have staff members inspect the space that will be utilized and ensure it's safe for children. For example, if indoor soccer fields were used for other activities during the winter, any unnecessary equipment should be removed to prevent injuries.
Staff and coach preparation
Organizations may hire additional staff members to help with their youth sports programs or they may rely on volunteer coaches. Either way it's important to ensure that any adult working with children is properly screened and passes a background check. Child abuse can cause irreparable harm to a child and also to an organization, so it's critical facilities do their due diligence when hiring staff or recruiting volunteers.
Additionally, staff members and volunteer coaches need training on child safety, first aid, and weather considerations among other topics. Review our safety guide for volunteer coaches and ensure your organization is providing adequate training for any adult working in these programs.
Spring is an exciting time for youth organizations. With planning and preparation, organizations can have a successful and safe youth spring sports season.