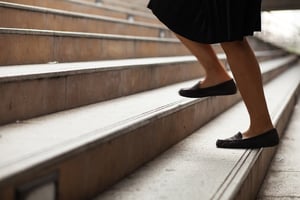 An in-home care coordinator was leaving an apartment complex following an appointment with a client. While descending the front steps, the employee reportedly missed the last step, resulting in a fall that caused a fracture to the employee's right ankle. The incident took place around 8:00pm when there was likely somewhat diminished light conditions, as the covered entry steps weren't lit. Examination of the steps showed the first step has a greater rise (more than two inches) than the other steps and the bottom landing is uneven. The total for this loss was $173,000. This could've been avoided if general staircase safety rules were in place.
General safety rules for stairs:
Ensure riser height and tread depth are uniform throughout any flight of stairs. Variation should be less than 3/8" by building code, but best practice is less than 3/16".
Make certain that landings are in good condition to prevent trips.
Make stairs more visible by ensuring the color of the stairs or leading edge of the stairs contrasts with upper and lower landings so individuals can distinguish stairs from the floor/landings.
Ensure there's adequate stair safety lighting.
Educate employees on the proper use and importance of handrails through training and other forms of notification. This includes ensuring one hand is always free and on the handrail.
Have a footwear policy that prohibits employees from wearing open-toed or open-heeled shoes.
Make sure you talk to your independent agent to ensure you have the proper coverages in place to protect yourself from potential fall-related losses.