Employees who work in residential care, assisted living facilities, hospitals, or clinics are at an increased risk of needlestick injuries. While a needlestick itself isn't a serious injury, it can lead to serious and sometimes fatal bloodborne pathogen infections. Hepatitis B, hepatitis C, and HIV can be spread through needlesticks. Staff members who care for patients are certainly at risk, but it's important to remember anyone at a facility that uses needles could suffer from a needlestick, including office and housekeeping staff, if needles aren't disposed of properly.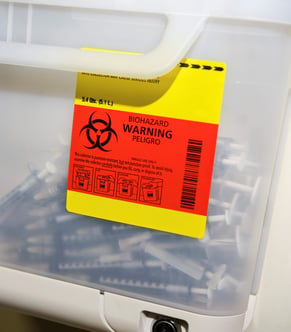 Preventing needlesticks
Employers should provide employees with training and readily available sharps disposal sites to help protect them from needlesticks. Here are a few specific tips to help keep employees safe:
Whenever possible, utilize needles with automatic safety devices.

Offer and encourage employees to get a hepatitis B vaccine.

Provide training on facility-specific procedures for utilizing needles safely.

Establish procedures for employees to report any needlestick injuries and provide first aid and bloodborne pathogen testing.

Instruct employees to avoid recapping needles.

Establish a procedure for employees to report any needlestick hazards they come across in the workplace and take steps to address these hazards promptly.
The Occupational Safety and Health Administration (OSHA) has specific hepatitis B vaccination requirements for employers whose workers could be exposed to bloodborne pathogens in the course of their job duties. Read our article to learn more about these requirements. Employers must provide their employees with adequate personal protective equipment (PPE) as well. By working to prevent needlesticks and providing vaccines and PPE, employers can protect their workers from serious illness and possible death.
Needlestick resources
Needlestick overview safety summary
Preventing needlesticks safety summary