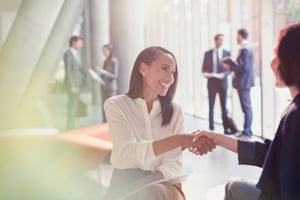 Here are some ideas to make sure your pipeline is always full.
Ask for referrals from current clients. Everyone knows somebody; you just have to ask. Once you have one customer, it will grow into many more as you network with your customer's friends, clients, associates, etc. People like to do business with people they like and trust. If you don't ask for the referral, you're guaranteed not to get it.
2. Social media. Stay connected with people on social media outlets like LinkedIn and even Facebook. Connect with them on LinkedIn and send them an email to see if you can meet as you may have a solution to help them.
3. Find a niche. Once you become an expert in a particular class of business, the referrals come easy. Usually, there are associations or networking groups involved with almost anything, business or personal. Don't just join, though. You have to be involved. Volunteer for committees, attend meetings, and network with people. Just joining a group or association isnt' going to build your network of people. It's going to take a little work, but once established, your pipeline will fill naturally.
4. Do your research. Once you have the meeting scheduled, do some research to find out about the potential client. If it's a business, become familiar with it and be prepared.
5. Meeting agenda. Make sure your meetings have an agenda. Be clear and concise. Find out if there are any hearburns or areas that need improvement. listen intently. Ask the customer what they need the policy to do for them. End the meeting with a timeline of what they next steps are and what each of your roles are in the next steps.
6. Follow through. Be sure to do what you say you'll do. Send a follow up email to recap the meeting with the detailed timeline that was discussed in the meeting. Be sure to thank them for their time.
7. Stay in touch. Customers want to hear from you; it lets them know you care and are interested in them. Send them articles that may pertain to them. It keeps your name in front of them.
8. Close the deal. Bring your ideas and solutions to reduce or solve their heartburn and back it up with examples and scenarios. If for some reason, you don't close the deal, be sure to keep the communication onpe and do your best to find out why they chose someone else. Keep all the information and keep trying for the next time.
9. Don't give up. If at first you don't succeed, keep trying. Sometimes, it takes years to convince a potential customer you can provide for their needs in the best way. It will keep your pipeline full and persistence pays off in the long term.
This blog was written by Stephanie Kiehl, Illinois Senior Regional Sales Manager.