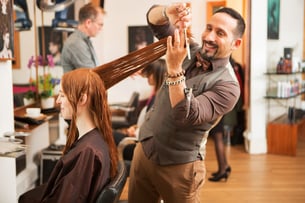 Professional hairdressers, beauticians, and barbers help people every day. In any line of work, accidents happen, and the risks double for people who are self-employed or own a small business. Hairdresser, beautician, or barber insurance protects you and your livelihood. Defending a liability claim can easily cost thousands to hundreds of thousands of dollars. By not having professional hairdresser insurance, you risk losing your hard-earned business, future earnings, and even your reputation. Not to mention your credit score could suffer, making it harder to get back on your feet.
Take a look at some real-life claim examples
In one case, the customer alleged that color was left in her hair too long; the color had dried to her scalp. She realized the next day that her scalp was burned, and it became infected. She had to take prescription medication and missed a week of work. Her claim was settled for $2,500.
In a similar case, the stylist exceeded the recommended time for the color to be on the customer's head, and placed it under a hair dryer when the manufacturer's instructions stated heat should not be used. The scalp burn led to an infection that caused permanent hair loss. Medical bills to treat the infection and for hair replacement amounted to almost $10,000. The claim was settled for about $20,000. Legal fees amounted to $8,000.
Trip and fall incidents often happen right inside the door, especially if it's been raining or snowing. One case involved the first customer of the day, whose shoes were wet. The customer slipped and fractured her kneecap, resulting in medical bills over $25,000. The initial settlement demand was $150,000. The claim was settled for $40,000 after almost $15,000 in defense costs were incurred.
What coverage do you need?
Professional liability insurance - Hairdresser liability insurance will cover any potential risk that comes with your profession. If, for example, a client who is cut or burned during styling seeks damages from you for a bodily injury or emotional distress claim, professional liability insurance will protect you.
General liability insurance - All small businesses should have general liability insurance. This insurance will protect you if anyone is injured because they tripped over your chair or one of your cords. It will also cover property damage if, for example, you spill hair dye on a client's expensive suit or designer handbag.
Business personal property insurance - Even though you rent, you have equipment, tools, and supplies to cover if there's a fire or other covered loss.
Do booth renters and chair renters need insurance?
Definitely! In fact, many owners of rented space at salons or booths require it for hairdressers who rent a chair. Even if they don't, you should still have insurance because renting a chair or booth puts you at risk for the same common incidents that affect hairdressers who own a salon.
Contact an independent agent to discuss your beauty insurance needs. Find one today using our agency locator.