A wide variety of organizations deal with hazardous chemicals. From a YMCA handling pool chemicals to an auto body shop utilizing spray paint, keeping employees safe while using these chemicals is very important. The Occupational Safety and Health Administration (OSHA) requires a hazard communication program to be in place if hazardous chemicals are present in the workplace and employees might be exposed to these chemicals during normal operations or emergencies.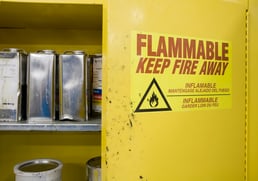 Key Elements of a Hazard Communication Program
There are five key elements in a hazard communication program.
Written chemical inventory: Maintain a list of all hazardous chemicals used at the organization.

Written hazard communication program: Develop a written program classifying the chemicals used; this should be communicated to employees regularly.

Safety data sheets (SDS): SDS must be kept on-site and should contain specific information for each chemical. Employees should know where to access the SDS.

Employee training: Employees must be trained on a regular basis on the types of chemicals used and the hazards associated with each one.

Labeling system: All chemicals used must be properly labeled with OSHA-required information.
Check out our safety summary for more in-depth information about each element and tips for employers.
Many new employees don't have the necessary knowledge about chemicals in their workplaces to keep themselves safe. It's critical for employers to implement a hazard communication program and emphasize the employee training portion. This will help prevent accidents and injuries.