We experienced many changes in 2020, among them the ability to get much more delivered to our homes. Many restaurants and bars shifted focus to take-out and delivery. Even small shops and other businesses that had never needed to deliver found they had to start to survive the pandemic. While many of us stayed home, the roads were filled with new delivery drivers.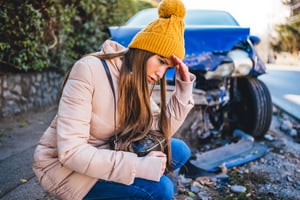 This pivot was essential for these businesses: however, it also created or increased their risk from an auto-related accident. Auto accidents cause injuries, property damage, negative publicity, death, and the potential for punitive damages, which may not be covered by insurance. It's important for any organization that utilizes drivers to understand negligent entrustment and how it can impact them in the case of an accident involving an employee. Negligent entrustment, in simple terms, is defined as "to carelessly permit (entrust) someone to use an instrument to cause harm." A court must find the following to be true for an organization to be held responsible for negligent entrustment:
The driver was incompetent.

The organization should have known the driver was incompetent.

The organization entrusted the driver with a vehicle (as part of their job).

The driver's negligence caused an accident.
So, what can an organization do to ensure it's not exposed to this type of liability? Our technical bulletin has a full list of tips for managing drivers safely. Organizations with a small number of drivers should focus on ensuring their drivers are properly screened. This means ordering and reviewing MVRs for all drivers and establishing guidelines that'll exclude drivers with certain violations. Once these guidelines have been established, they must be followed in all cases. Providing drivers with periodic training is also important. Taking steps to screen and train new drivers can go a long way towards protecting an organization from additional exposure.