At the height of the pandemic, many offices shut down and sent workers home to work remotely. In the years that followed, businesses slowly began having employees return to the office at least a few days a week. This return to normalcy can be good for team building but it's also essential that employees' desks are set up properly when they return. During office closures, employees' desks may have been moved, chairs may have been adjusted, or new equipment may have been supplied. Employees may also be taking their laptops to and from home if they're working remotely some of the time. This can also affect their ergonomic setup. To prevent injuries, it's important to assess and ensure each employee is properly set up when they return to their office environment.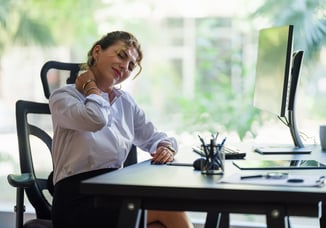 Computer workstation ergonomics
Check out these tips for a comfortable posture while working at a computer workstation:
Keep hands, wrists, and forearms straight and roughly parallel to the floor.

Ensure head is level, generally in-line with the torso, and eyes are at an even level with the computer screen.

Relax shoulders and bend elbows between 90 and 120 degrees.

Fully support feet with either the floor or a footrest.

Be sure back is fully supported with proper lumbar support from the chair.
In addition to ensuring a proper computer setup, it's important to encourage employees to take regular breaks to walk around and stretch. If possible, allow employees to perform some tasks at standing workstations. Keeping the office environment at a comfortable temperature and minimizing any glare from windows if possible are also key. Read through our safety summary with additional information and diagrams for a comfortable computer workstation setup. By taking a little time to properly set up each workstation, employees can stay comfortable and injury-free in the office.