It should come as no surprise that some of our most frequent auto claims here at West Bend are claims for damage caused by backing accidents. Many of our customers utilize fleets of large vehicles, some as large as semi-trucks and school buses. It can be very challenging to back up these vehicles safely! Even smaller vans and work trucks can be difficult to maneuver. While these claims typically don't result in serious injuries, the vehicle damage costs add up quickly.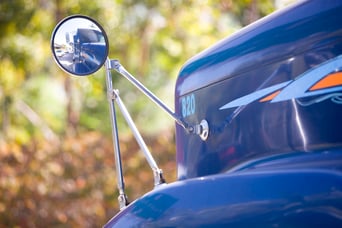 One key part of safe backing is having properly adjusted mirrors. While every vehicle is different, mirrors should be adjusted to minimize blind spots as much as possible. Mirror adjustment is crucial for vehicles that are used by multiple people at an organization, such as a small bus or van at a childcare center. It can be tempting to adjust only the rearview mirror before taking off, but it's very important for drivers to take a few extra minutes to ensure the side mirrors are also properly adjusted.
In addition to properly adjusting mirrors, there are other steps drivers can take to make backing up safer:
Become familiar with the vehicle's blind spots.

If possible, park in places that don't require backing up.

Do a quick walk around the vehicle prior to starting and backing.

If the vehicle is equipped with a back-up camera, be sure to check it, but don't rely on it totally.

Back up very slowly and turn music off so that horns or other sounds can be heard.

If needed and available, use a spotter. Using a spotter is one of the best ways to ensure a large vehicle is safe while backing up.