It's a new year and many childcare centers are enrolling new children, developing new routines, and often transporting many children to and from their homes and/or elementary schools. When parents trust and rely on childcare providers to transport their children, it's crucial that providers reward that trust by following transportation safety and licensing guidelines. Making sure children get to and from their destinations securely is the most important thing for providers and parents alike.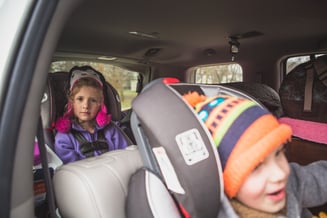 Safe Driving Practices
A key piece of transportation safety is ensuring that drivers hired are qualified and well-trained. All drivers at a facility should be properly screened and given in-depth training on the vehicle they'll be driving and their routes. Centers often have large vans or busses that can be more challenging to drive than regular cars. Drivers should have a clean driving record; any moving violation is a disqualifier when transporting children. If the center is transporting younger children who require car seats, every driver must be trained on how to properly install and use the seats.
Supervision Policies and Procedures
Every center should be following or exceeding child to adult ratios even during transportation. This may mean having one or two adults in addition to the driver on the bus or van with the children. A driver can't focus on the road and supervise the children. It's also important for centers to have a written procedure to account for children being transported. If a driver is picking up children from their homes and a child is absent for the day, how is this communicated and tracked? If providers pick up children at their schools, how will they know how many children attended that day to ensure none are left behind? It's also critical to have a procedure for checking the vehicle once it's reached the childcare center, to ensure no child is left in the bus or van. This happens much too often and can be very dangerous.