Typically, you'll find a sauna or two in any fitness center or YMCA-type organization. Located in the locker rooms or on the pool deck, saunas are popular with members, especially in the winter months. Saunas can be great assets but also pose some safety hazards. In addition to the fire hazard, there are burn hazards and the risk of users overheating and passing out. It's important for organizations to put policies and signage in place to help mitigate some of these issues.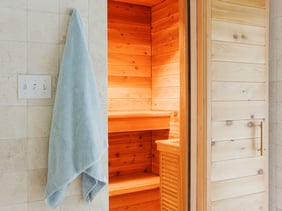 Sauna safety tips
A key part of sauna safety is to have posted signage with safety rules and recommendations for users. Sauna manufacturers should provide some general rules and guidelines for who should use the sauna and for how long. These rules should be posted inside and outside of the sauna along with signs with "use at your own risk" verbiage. An attorney can advise on exactly what the wording should be used on these signs.
Another important piece of sauna safety is proper supervision. No matter where they're located, staff members should routinely check the temperature and ensure no patrons need help in the sauna. If the sauna is in a locker room, this should be part of the regular locker room walkthroughs that staff members are doing. If the sauna is on a pool deck, staff members should still be checking it on a regular basis. While lifeguards may notice patrons going in and out, checking the interior and the sauna temperature shouldn't be part of the lifeguards' duties. Their focus should be on the pool. These sauna checks should be documented in case of an incident.
Saunas should also be maintained and replaced on a regular basis to keep them in good working order and to ensure there are no issues with temperature. Keeping these simple tips in mind can help your organization keep any patron using the sauna safe and sound.