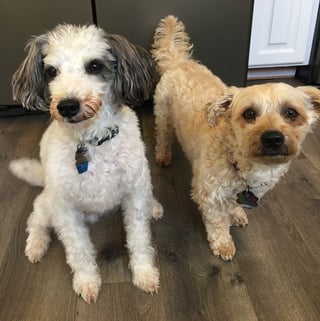 I have two amazing rescue dogs, Dawson and Simba, who are pictured here. Awww…aren't they simply adorable? When I worked for a veterinary clinic a few years ago, I had the ability to bring them along as my schedule allowed. Usually, only one accompanied me at a time, as two dogs would be too much to handle. While it was fun to have a companion with me, I found there to be some challenges as well. As an employer, should you allow pets in the workplace? Let's look at some things to consider.
Ask the masses. Make sure you ask all staff if they would be comfortable being around dogs. Allergies can be devastating for some people. And, believe it or not, there are people who are simply afraid of dogs. Also, if you have clients in your building, would they love being greeted by a happy pup?
Your workplace. Consider your business environment. Are you in a small office building, a retail shop, or a manufacturing facility? Would it be pet-friendly? Is there anything potentially harmful for dogs? If you lease, it's a good idea to check with your landlord as well.
Check with your insurance. Any time you have a change that may affect liability, check with your insurance agent. They will be able to advise you if a change needs to be made to your coverage. It may be a good idea to create a liability release form employees must sign before bringing their pets to work.
Address the Mess. While they are downright cute, dogs can be messy. Having a designated outdoor area for relief, complete with bags and receptacles, will be key. And how will you handle any indoor accidents that may occur? Cleaning stations with disinfectant, bags, paper towels, and receptacles should be set up around the building.
Create a Pet Policy. This will be important in setting expectations for your employees. To help you get started, Trupanion has some great templates that include:
Pet rules & etiquette
Training tips & tricks
Pet buddy overview
Application to bring a pet to work
Required vaccinations
Allergies and other concerns. One in five people suffer from allergies or asthma symptoms according to WebMd. Many have pet allergies. While it may reduce stress to have pets around, if your employees have allergies, asthma, or are scared of dogs, you may be looking at increased sick days used or a decrease in productivity.
Baby Steps. Start small with a 'bring your dog to work day'. Designate one day as a trial and see how it goes. What worked, what didn't? Send out a survey to your employees and get their feedback. Make adjustments accordingly and try another day the following month. This should give you a good feel for what it would be like.
What do you think about having pets at work? Share your thoughts and experiences below.