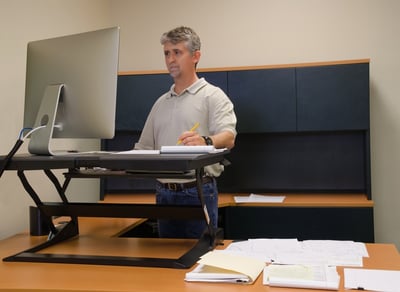 There's a lot of information out there about standing desks. Is it beneficial for your health? Do you burn more calories standing? Does it keep you more engaged and awake at work?
Here at West Bend, we're fortunate to have the option of a Varidesk installed at our workstations. The Varidesk is a height-adjustable desk that allows you to stand while using your computer. When you want to sit back down, you simply lower it. The moment I saw one, I knew it was for me. Even though I had successful back surgery about 14 years ago, my back still gets stiff if I sit too long. I also get fidgety when in one position for extended periods. So I thought, why not? I'll give it a try.
I've read several different articles on the health benefits of a standing desk. An article on Smithsonian.com suggests the cumulative impact of sitting day after day for years is associated with a wide array of health problems like diabetes, cancer, and obesity. Many people now use the new phrase, "Sitting is the new smoking." James Levine, an endocrinologist at the Mayo Clinic, states that sitting has become the norm. Research is finding that even if you sit most of the day and exercise at night, it's more beneficial in the long-term to incorporate standing, pacing, and other forms of activity into your normal day. Adding a standing desk is an easy way to do just that.
A number of studies support getting up and moving throughout the day. A sedentary lifestyle can be linked with a higher risk of many forms of cancer, heart disease, and reduced effectiveness in regulating levels of glucose in the bloodstream, part of a condition known as metabolic syndrome that dramatically increases the chance for type 2 diabetes.
Just like with everything, however, moderation is key. And how you use your standing desk is equally important. Is it the right height? Are your monitors at the correct eye level? Are you standing on an anti-fatigue mat?
If you're new to a standing desk, ease into it. Stand only for an hour at a time for the first two weeks and then increase to two hours. Never stand all day or even half of a day. When you do stand, shift your weight, sway back and forth, but never stand static. Your body isn't made to do so. These are all things to consider and remember.
Now that I have a standing desk, I can't imagine my days without it. It helps me stay alert and gives my back some relief. But, it's not for everyone. Some of my colleagues experienced leg pain after standing and had the standing desk removed.
If your company is looking into offering standing desks, be sure to consult with an ergonomic professional. Their importance in customizing each area to the employee's needs will ensure proper body mechanics and avoid any issues when using standing desks.
Resources:
5 Ways Your Standing Desk is Doing More Harm Than Good