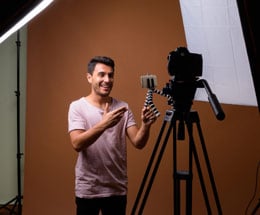 Are you using video to market your business? Or, is something holding you back? Video is one of the best ways to communicate, build trust, increase engagement, and foster relationships on social media. Don't let fear of the camera or time limitations stop you from reaching your customers. To make a great video, all you have to do is follow these simple tips and push the red button.
Storyboard. Think about the message you want to convey. Put together a list of bullet points that will guide you through. Practice several times to ensure you're comfortable with the delivery. Be concise and clear. Don't overwhelm your viewer with too much detail.

Sound. Don't rely on your camera's internal microphone. Especially if you're using your smartphone to record. Invest in a lavalier microphone for the best audio. Make sure to choose one that works with your type of camera. Then, simply clip it on your lapel and you're good to go.

Camera. You can go big if you have the budget, but most small businesses don't. You can produce great looking video with your smartphone. My iPhone 8 records crisp looking video in 4K. Don't get too hung up on having the best equipment. Keep the focus on providing useful and valuable content and messaging instead.


Lighting. Never place yourself in front of a window. This will cause your camera to adjust and your face will be too dark. Also, overhead lights can cast shadows on your face. Instead, point a light directly at your face to get rid of those shadows. A darker backdrop works best, allowing the camera to adjust to your face.


Framing. If you're talking or doing an interview, don't have too much space around your head. Aim for the head and shoulders to record. Keep the focus on you and not the blank space around you. Use the grid lines on your camera for centering as well. The rule of thirds is helpful not only for photography, but for video as well.


Authenticity. And finally, and in my opinion, most importantly - be you! Don't try to be anyone else. People can sense when you're trying too hard or mimicking someone else. They tuned in to see you, so let your personality shine. Video is a great way to connect with people but only if you're being real.
Do you have any tips or information on tires you'd like to share? I'd love to hear them; please share them in the box below.