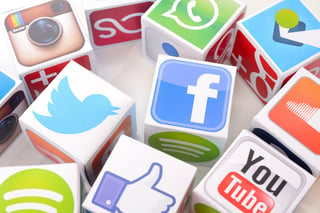 The number of people using social media worldwide is staggering. In the United Sates alone, three quarters of online adults use social media and for teens and millennials, that number is significantly higher according to the Pew Internet Project. Not only is it impressive how many are logging on, but according to Business Insider, almost 20% of total time spent online in the United States is on social platforms.

Social media has become a modern version of networking, referrals, knowledge sharing and purchasing power. West Bend, as an organization, wants to be a part of the conversations going on about our company and you should too. What if you're a small business and/or don't have someone dedicated to social media, what should you do?
A Few Tips
Start small. You don't have to be on every social media site. Choose one platform that best suits your audience and supports what you are trying to sell. If you're a business-to-consumer (B2C), you may choose Facebook. Think of Facebook as a party. You invite guests, you chat, and you take time to develop relationships. On the other hand, if you're more business-to-business (B2B), you may want to focus on networking and connecting with owners and businesses on LinkedIn. Once you build up a following on one platform, it will be easier to try another and invite those followers to come along.
Content is king. People are inundated with information 24/7. Everyone is trying to market their services and products, so how do you break through the noise? By providing value. Mari Smith, one of the foremost Facebook experts, calls it "edutainment." Education and entertainment combined into one. Choose topics that appeal to your audience; things that matter most to them with some fun and lightheartedness sprinkled in. If you have a website, link to key pages of information or if you have a blog, link to that while keeping topics relevant and engaging. Ask questions and for feedback. Don't be afraid to show the human side of your business. Post birthdays, special events, anniversaries, charity drives and volunteer work or community support. You should also share great information from authorities in your industry.
Create a schedule. If it's not a part of your normal routine, make it be. Schedule some time each week to write your blog, or research areas of interest in your industry. Put reminders on your calendar to post to social. Your postings should be consistent and relevant to what social media platform you are using.
Engagement. The more you can hold the attention of your followers, the better. The goal is to bring them in and keep them on your pages or to get them on your website to read your content and interact with you. If they comment on a post, reply to them timely, thank them for the question and provide an answer. And, if you receive a complaint, try to take it offline as quickly as possible by asking them to send you a private message.
Analytics and Learning. One thing is certain – social media is constantly changing. Organic reach is getting harder and harder. Most social media platforms offer some type of free analytics or insights. Be sure to review this on a consistent basis. Review your top posts; were they photos, videos or links? See what works and do more of that. Keep learning about social and stay up to date with changes by following great resources like these: