Storm season is fast approaching and unfortunately, severe weather can cause serious property damage for business owners. Once cleanup has begun, businesses are tasked with hiring a reputable contractor to complete repair work on their buildings. While there are many qualified and diligent contractors, there are also fraudulent contractors who take money without completing the work or who complete shoddy repairs and then leave town. Business owners could be left with an incomplete project or additional damage even after paying a significant amount of money to a dishonest contractor.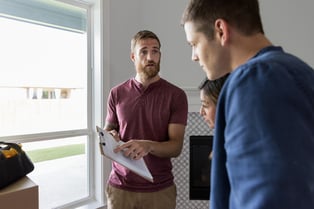 So how can business owners protect themselves from these types of contractors? We've put together some red flags and tips to help businesses ensure they're working with legitimate and qualified contractors.
Contractor red flags
No physical address on the estimate, bid, or business card.

The contractor doesn't have insurance or hold a license. Words and information on business cards aren't always true.

The contractor comes to your business without being called. Some dishonest contractors will follow severe storms from community to community, trying to get payment for work they don't plan to complete. Be very cautious if someone shows up unexpectedly.

The contractor requests full payment in advance, a large down payment, or daily money draws without doing a lot of work.

The contractor wants an immediate commitment. You can take your time when deciding who will repair your business.

The contractor is slow to provide a written quote. This can indicate that the contractor has too many projects or is just unprofessional.

The estimate is vague or seems very high or very low. The contractor could be trying to overbill you or your insurance company. Or they may be trying to secure the job with a low bid.

The contractor tries to pressure you into larger and larger commitments or improvements to your building.

The contractor doesn't have references to contact. It's smart to check with the Better Business Bureau and read their online reviews. Another option is to ask for referrals from other business owners in your area.
Tips to protect your business from fraudulent contractors
Contact your insurance company immediately.

The insurance company's claims representative can work with you to get your property inspected and may have recommendations for reputable contractors in your area.

Work only with licensed and insured contractors.

A legitimate contractor will have no problem providing a current certificate of insurance.

Get several quotes.

Obtaining several quotes can help you see how much the project should cost on average. Really high or low quotes could be red flags. Be on alert for offers or quotes that seem too good to be true.

Always get a signed contract.

A detailed contract should provide specifics regarding cost, timing, payments, and guarantees/warranties.

Don't pay in full until the work is done and meets your expectations.

Be sure the work performed meets local and state building codes as well before releasing any funds.