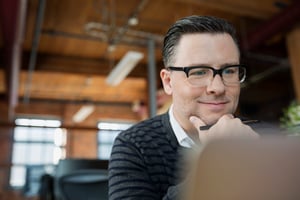 Ever find yourself wondering why so many people – including you – stress over writing their own bios? Writing a bio should be simple, but so many people struggle to find the right words. Maybe it's because you want to sound more exciting. Or maybe you're worried your bio won't be as impressive as one of your colleagues. Regardless of the reason, we developed some ideas for you to consider when writing your next bio.
Write your bio in first person. After all, if this is your personal bio, doesn't it make sense for you to be the one sharing your story?
Share what made you want to become a business consultant.
Describe your consulting style. Include any industry-specific skills you have.
Mention your life outside of work. You don't need to get too detailed with this, but people generally like to know a bit about your personal life. Share something about your family, where you're from, or hobbies you have.
If you're looking to add something fun to your bio, mention your favorite vacation spot, book, or type of music.
Your bio could be the deciding factor for another business to choose your services, so make sure it's free of grammatical errors and typos. Remember to use a professional voice, but don't be scared to let a bit of your personality show through.