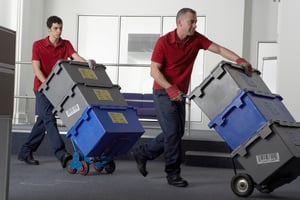 If moving a residence is stressful, moving a business is that times ten. There are so many more worries with moving your business, such as how it'll impact your customers and your revenue, and how everything will work in the new location.
In this article, we look at ways to efficiently move your company without losing productivity or negatively affecting your bottom line.
Get Good Movers
When moving your business, getting a reliable moving company is paramount to getting a good outcome. While it's always tempting to save a few bucks and go cheaper when hiring a mover, you're always better off going for quality, because you'll have less stress and worry, and you'll be sure that everything will go off without a hitch. Remember, your business is at stake, so it's essential you get out and up and running in your new location with minimal disruption to your business.
To get a good moving company, get one who takes a detailed inventory of your stuff to ensure it all arrives safely at your new location. Also, don't be shy about asking for references and testimonials. Don't just trust what you read on the internet: ask to talk to real people who have experience with the company.
Make Detailed Plans
Before you move, make a detailed plan of all that needs to be done and be sure to include everyone on your team when making the plans. This allows you to get valuable input from your co-workers on any logistical concerns they might have and it could alert you to potential problems you haven't thought about. Including every department in the plan helps ensure a smooth moving experience.
Take Inventory
It's essential you or your moving company take a detailed inventory of your office and what needs to go, such as furniture, computers, phones, files, supplies, etc. While you're making this inventory, it's a good time to get rid of things you no longer need so you can start lean and fresh at your new location.
Make A Timeline For Goals
Any good team leader knows that to accomplish a task successfully, you need to establish goals. So, when planning to move, it's wise to make a timeline with goals you need to reach to ensure your move goes smoothly. Things to include are shutting off phone and internet service and notifying your customers about the change of address.
Notify
For a successful move, it's vital you notify your vendors and customers of your intentions to avoid any hiccups with service. It's important to tell them in advance the last day you'll be at your current location and when they can expect you to be up and running at your new place.
Get The New Place Ready
To ensure you can hit the ground running at your new place, it's a good idea to prepare it so you're ready to go once you arrive.
Brandon Morris has lived in the Dallas/Fort Worth area his entire life. He owns North Dallas Moving and Storage and focuses on residential and office moving in the Dallas area.