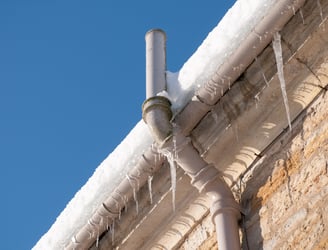 Our good ole Wisconsin winter has delivered everything from freezing temperatures to unseasonably warm weather. We've been dumped on by snow, just to have it melt, flood our yards, and return to freezing temperatures. Recently, I could've ice-skated in my back yard and now spring is less than a month away! It's important to safeguard your property and minimize water losses. Here are some things you can do to ensure your business stays dry.
Outside drainage:
· Make sure water from all roof downspouts is draining away from your foundation walls.
· Use downspout extensions and splash plates to help route water further away from the foundation of the building.
· Clean debris out of the gutters to maximize rainwater flow off the roof and away from the building. Twigs, leaves, and balls will block the free flow of the gutter and downspout system. If you're not comfortable climbing a ladder or working at elevations, hire a professional gutter cleaning or roofing contractor.
Your building's interior:
· Monitor your appliances - Over time, water heaters can rust on the bottom and begin to leak. Rubber hoses on dishwashers, washing machines, and refrigerators consist of two layers of rubber with a cloth fiber inside that deteriorates over time.
More tips to avoid water damage:
· Know where the main water shutoffs are located. Install water shutoff valves on water lines under sinks and toilets, as well as those leading to outside faucets.
· Repair small leaks around water heaters, refrigerators, dishwashers, and other appliances before they become a problem.
· Know and follow the recommended maintenance procedures for your appliances, such as periodically draining the water heater to clean out the sediment at the bottom of the tank.
· Check dishwasher and refrigerator hoses for signs of deterioration and replace hoses that show any evidence of cracking.
· When a problem does occur, hire a reputable contractor.