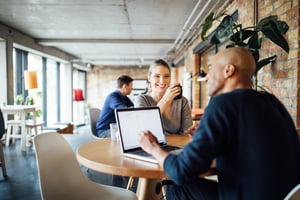 Communication is a cornerstone of any business. It helps build relationships, convey ideas, and when done properly, overcome difficult situations. Good communication is challenging in today's environment when most of the contact is done via email or text. I'm sure we've all been there when reading emails and trying to detect the tone – is the sender upset or is everything ok? Email and text can leave you feeling unsettled and wondering how to best reply. Here are some tips to help improve communication.
Type of communication. Everyone is busy and time is precious. Clearly, this is one of the reasons many organizations use email as their primary form of communication. Consider the topic before typing. Will the email need to be a page long to convey your message? If you expect the email will go back and forth several times, consider talking in person. Set up a 5-10-minute meeting where you can clearly communicate, ask questions, get answers you need, and increase productivity by saving time. If you work from home, consider using a video chat meeting.
Take time to listen. How often have you had a conversation where someone looks away at something else or has their eyes glued to their smartphone? Give your full attention to the person you're talking to. Maintain eye contact and give all your focus to that person. If you don't, it'll devalue the conversation and eventually the individual will tune out as well.
Open door policy. When management allows employees to stop by any time, it creates a communication-friendly atmosphere. It breaks down barriers, saves time, and builds strong relationships.
Watch your body language. People are more comfortable talking to others who seem approachable, so greet people with a smile, don't cross your arms, and maintain eye contact.
Change your location. A change of scenery, especially during the doldrums of winter, can inspire better conversations. You don't necessarily have to leave the building, but choose a different place than normal to meet.
Hold team meetings. One-on-one meetings with managers are important, but so are departmental or team meetings. By allowing people to freely ask questions, learn about what new projects are coming up, and how they can contribute will give them a sense of being part of the larger picture, which will boost their performance.
For more valuable professional development resources, check out our library of videos and articles here: https://www.thesilverlining.com/resources
Sources:
https://www.sandler.com/blog/5-strategies-improve-communication-workplace
https://axerosolutions.com/blogs/timeisenhauer/pulse/210/30-smart-tips-to-improve-workplace-communication
https://www.officevibe.com/blog/improve-communication-at-work
https://www.thesilverlining.com/productivity-tips#communication