A recent claim caught the attention of one of our loss control reps. A child in a drop-in daycare facility went into the bathroom to get her diaper changed, ahead of her teacher by just a few seconds. The staff member who cleaned the bathroom the night before accidentally left a toxic cleaner out and the child grabbed the bottle. Luckily, the child only got some of the cleaner on her clothes and a staff member caught her before anything was ingested.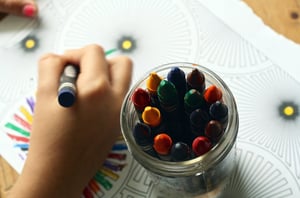 While an incident like this could be seen as a rare fluke, it happens all the time in childcare settings. Cleaning materials, hand sanitizers, and medications are all accidentally left within reach of children. In fact, in Wisconsin it's a licensing violation for childcare centers to leave anything on a counter that says "Keep out of reach of children" on the label. This includes hand lotions, diaper creams, and sunscreens. Even though providers are aware of this rule, it's still common to see these items left on counters, for convenience or just because teachers simply forget.
It's important to take this seriously as children can become seriously ill from ingesting something toxic. Any cleaning or sanitizing supplies should be kept in a locked cabinet when not in use. Teachers should check the room and bathroom before children arrive to make sure nothing dangerous was left out. Supervisors can do spot checks to make sure nothing is within reach of children that shouldn't be. These chemicals are often brightly colored and children's natural curiosity makes them even more enticing. By keeping everything locked up, teachers can help keep kids safe and have one less thing to worry about.