If you are a lifeguard supervisor or manager, this probably sounds familiar. You supervise a group of lifeguards; some stay with you all year long, while another group only works once college classes are finished. On top of keeping these schedules straight, you also have to hire new lifeguards to replace the ones that decided to move on.
Among all of this chaos it is easy to lose sight of one of the most important elements of lifeguarding … maintaining up-to-date lifeguard certification. Read on to find out ways your fellow lifeguard coordinators are keeping everything organized.
Tips for Easier Lifeguard Certification Management
While all of the hiring and scheduling can be stressful, most supervisors tough it out and start the season with a full staff. Unfortunately, the really difficult job is just beginning. How can you track different certifications, for different lifeguards, with differing lengths of service, and entirely different availability?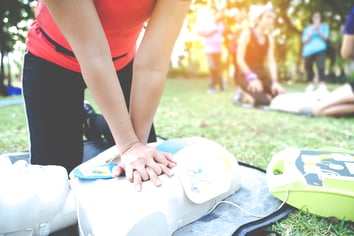 Batch Lifeguard Certification
In our opinion, the most efficient and foolproof method for avoiding a lapse in lifeguard certification is batch training... especially when it comes to designations that need to be renewed on an annual basis.
Batch lifeguard certification works by scheduling one or two mandatory certification events each year. For example, you know every lifeguard must renew their American Red Cross CPR and First-Aid certification each year. Rather than rushing to get Anne re-certified in February and Bill re-certified in April, why not get them both re-certified at the same time?
Requiring all lifeguards - or any staff member for that matter - to refresh their certifications on either June 1st or January 1st, for example, ensures that no schedule juggling will be necessary. You know that if a lifeguard misses the CPR and First-Aid training in June, then they absolutely must take it in January.
Many lifeguard managers have expressed that batch certification can be a contentious topic for the first year or two, as many lifeguards don't like the restrictive nature of only one or two time slots. We recommend explaining just how important maintaining an active cert is, and in time, most lifeguards will jump on board.
Repeating Email Reminders
Whether or not you decide to implement batch lifeguard certification, we strongly suggest using automatically repeating email event reminders. The basic idea is to give yourself and members of your staff an extra warning before lifeguarding or CPR/First-Aid certifications begin to expire.
As a lifeguard management best practice, the aquatic safety experts at West Bend recommend that email reminders be set at three-month and one-month increments. Even if you decide to do batch re-certification, an email reminder should be set up for every certification for every lifeguard. This means a lifeguard should have at least two reminders set up, one for the American Red Cross or YMCA Lifeguarding/AED certification, and the other for the CPR and First-Aid component.