Drivers who transport clients or patients for organizations like assisted living facilities, childcare centers, or adult day care centers must navigate many different safety concerns every day. From making sure passengers are safely secured in the vehicle, to dealing with passenger distractions, to normal traffic and vehicle issues, these drivers have a lot on their plates. It's important for employers to provide drivers with adequate training and support to ensure their passengers arrive at their destinations safe and sound.
Transporting Passengers Safety Tips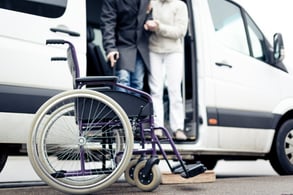 Here are some tips to help make drop-off and pick-up procedures as safe as possible. You can find these tips and others in this useful PDF.
Before loading or unloading, think about the location of the vehicle. Proper location will make this process safer for passengers, you, and other drivers. It'll also make loading or unloading faster and easier.

Park as close to the pickup location as possible.

If using a vehicle with a lift, ensure the road surface under the lift is free of large rocks, debris, or obstructions.

Avoid congested areas where it's difficult to maneuver.

If possible, avoid backing up by using a drive-through route.

Avoid stopping where the passengers must be taken over curbs, rough areas, and snowbanks or through water.

Activate vehicle hazard warning lights.

Be alert for traffic, and when possible, walk towards traffic while outside the vehicle.

Don't jeopardize your own safety to pick up a client or patient. If their location is inaccessible for any reason, contact them or dispatch to reschedule.

Lock the vehicle when not inside or loading.

Limit entry to a client or patient's residence; encourage them to meet you at the doorway and drop them off at the doorway.

In the event of an emergency for you or your passengers, call 9-1-1.