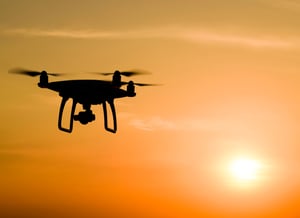 As drones become more commonplace in our airspace, and commercial and recreational use continues to grow, so, too, will the need for adequate insurance. Commercial insurance is typically required when an operator uses a drone for commercial purposes with the intent to make money (for example, construction, photography, or real estate operations). West Bend has recognized the need to stay on top of this new exposure and can now offer property and liability options for use of commercial drones. Coverage can be provided for those who use drones themselves, as well as for those who hire a drone service provider (DSP).
Most people are familiar with the term "drone." In the insurance industry, however, it's common to refer to a drone as an unmanned aerial vehicle (UAV). The Federal Aviation Administration (FAA) also calls them unmanned aircraft systems (UAS). An unmanned aircraft doesn't have a human pilot onboard and is controlled by an operator on the ground.

It's important to understand FAA rules regarding the use of commercial drones. While there are several rules for use of recreational drones, including height limitations, registration requirements, and restricted areas of operation, it's important to note the use of commercial drones is regulated much more strictly. Operators must obtain FAA remote pilot certification with periodic recertification. This certification is rules/knowledge-oriented and doesn't include actual flight simulation testing. All equipment must be registered with the FAA and all FAA regulations must be followed for the safe operation of UAVs. Here's a sample safety policy for the safe operation of commercial drones. That being said, the rules and regulations about UAV operations are still in a state of flux and new restrictions are certain to evolve with time. Regulations surrounding UAV usage can also vary based on community, township, municipality, etc.
If you operate a UAV for business purposes, please contact your independent insurance agent to learn more about coverage options.
This blog was written by Commercial Lines Underwriter, Joe Schoenwetter.