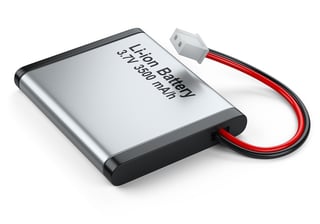 In the summer of 2016, news began to break about the Samsung Galaxy Note 7 smartphones catching fire. A large recall ensued and Samsung permanently ended production of the phone. An investigation completed by a team of 700 engineers and researchers, that included 200,000 devices and more than 30,000 batteries determined that a deformity existed with one of the two types of lithium-ion (Li-ion) batteries. This deformity caused the electrodes inside the battery to bend and then start on fire.
In August 2016, there was a fire in Franklin, WI at S&C Electric Company started by these batteries. The fire department put water and foam on the fire but could not extinguish it. They had to call in firefighters from the airport to use a special liquid that helped extinguish the fire.
About Lithium-ion Batteries. Lithium-ion batteries are used in many things, including cell phones, laptops, kids' toys, vehicles and vape pens (e-cigarettes). They are inexpensive, powerful and lightweight but theyalso generate a large amount of energy which can cause fire and explosion risk. Lithium-ion batteries are capable of spontaneous ignition and subsequent explosion due to overheating. Overheating can result from electrical shorting, rapid discharge, overcharging, poor design or manufacture defect. Mechanical damage (improper handling) is probably the most common cause of explosion.
Proper Storage & Firefighting. When lithium-ion batteries are stored, they need to be kept between -20 to 60 degrees Celsius and should be kept at a partial charge of 30 – 50%. If they are being stored for long periods, they will need to be charged every few months. They should be kept in a separate location away from other items you may be storing or warehousing. The batteries should be protected by a fire suppression system that allows for cooling. The National Fire Protection Association (NFPA) and FM Global have started researching firefighting and protection tactics. While research on fighting fires caused by lithium-ion fires is ongoing, NFPA's current recommendation for battling a fire in a facility storing lithium-ion batteries is firefighters should use water on the fire and let the building burn until the fire is out.
For more safety information, visit the NFPA website.
Sources:
http://gizmodo.com/samsung-finally-releases-note-7-disaster-autopsy-1791496476
https://www.wired.com/2016/10/samsung-isnt-one-lithium-ion-problems-just-ask-nasa/