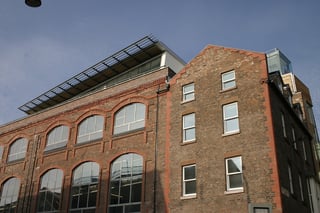 We've all seen the claims – plumbing line cracks causing water damage, light fixture short circuits causing electrical fire, and roof leaks causing internal damage. While these are not always 100% preventable, oftentimes these claims result from older equipment malfunctioning or just breaking down over time.
When underwriting Property coverage, one of the biggest factors in determining acceptability is deciding whether the building(s) on the policy is (are) acceptable. There's always a lot of discussion regarding the age of buildings. Information regarding updates to the buildings is just as important, especially when buildings are more than 40 years old. The age, occupancy, and use of the building all come into play when determining the extent of updates that are necessary to make a building acceptable from an underwriting perspective.
Here are some questions an underwriter typically asks when reviewing updates to a building that is more than 40 years old:
Electrical - Have updates been made in the past 25 years? Was the building built for the current occupant and have updates been done to meet the electrical demands of the current occupant? Has everything been updated to circuit breakers? (Note: knob & tube and aluminum wiring is not acceptable.) Has the original wiring been pulled out and updated with all new wiring? Do apartment buildings have at least a 100-amp service in each unit and manufacturers at least a 200-amp service?


Heating Ventilation and Air Conditioning (HVAC) – Have updates been made in the past 30 years? What type of system is in place and when was it last updated? How often is it being serviced by an outside contractor? Does the system meet the needs of the current tenant? When was the boiler system last inspected?


Plumbing – Have updates been made in the past 45 years? What type of piping is used and is it all the same? Has the entire system been updated or just parts? Were updates just cosmetic (i.e. faucets)?


Roof – Have updates been made in the past 20 years? If updated, was the entire roof removed and replaced? What type of roof is it (flat, pitched, domed)? What type of roofing material was used (shingles, steel, tar, gravel)? What kind of preventative maintenance is done? If it is a metal roof, has it been re-coated in the last 5-10 years? Is there a snow removal program to prevent collapse? Is there any large equipment on the roof (billboards, tanks, solar panels, dust collector)?
A picture is worth a thousand words when determining acceptability. It helps to see the condition of the building as a whole as well as the condition of the roof. It is easy to tell whether the owner has pride of ownership and keeps the premises neat and well-maintained. Providing pictures of the exterior and/or interior of the building along with updated information on an older building, goes a long way in speeding up the quoting process.
While older buildings can be more challenging to insure, having good information on updates is critical to the underwriting process, and it allows for identification of potential future issues for the insured.
This blog was written by Lisa Carney, Commercial Lines Underwriter for West Bend.