A new survey by the Insurance Institute for Highway Safety identified the groups of drivers most likely to be distracted while behind the wheel. The survey of more than 2,000 drivers nationwide, found that gig-economy workers, like Uber or Lyft drivers, and parents of children under 18 years old were the most likely to engage in other tasks while driving. Gig workers were four times more likely to use smartphone apps while driving than other drivers.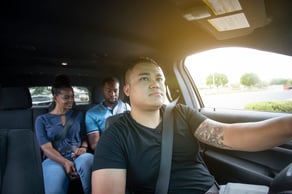 It makes sense that these workers would be using their phones behind the wheel, whether to check their app to find their next job or for entertainment because they spend so much time driving. It's also especially concerning that parents with children under 18 are one of the most distracted groups. Parents are often driving with their children and children can be big distractions.
Any smartphone use while driving increases the likelihood of a crash, as a smartphone takes the driver's attention away from their driving. Many of the drivers in the survey reported using hands-free technology while using their phones and driving. While utilizing hands-free technology is generally thought of as a safe option, because drivers aren't taking their eyes off the road, it's still a cognitive distraction. Drivers still must think about what commands to give and what to say/do with their phone. And often the technology doesn't work perfectly, and drivers still end up looking at their phone.
It's critical for drivers to recognize the dangers of being distracted behind the wheel, for any reason. Check out Focus, our dedicated distracted driving webpage, for more information and videos on the different types of distractions and how drivers can keep themselves safe behind the wheel.