During the cold weather months alternative heating sources, such as fireplaces, space heaters, and wood stoves are used in many ways to keep buildings warm. In older, draftier buildings, space heaters are often used in areas where the normal heating system doesn't work well. Wood stoves and fireplaces are common in cabins and vacation rentals and are more often used during the winter months. While nothing is cozier than a warm fireplace during a snowstorm, these heating devices can also pose some safety hazards like fires and carbon monoxide poisoning.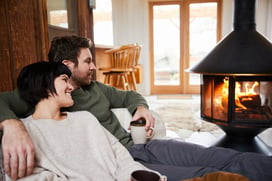 Staying Safe During the Winter Months
Here are just a few of the tips you'll find in our safety summary which includes more information and links to other safety summaries with in-depth information on related topics.
Have a qualified professional install stationary space heating equipment, water heaters, or central heating equipment according to the local codes and manufacturer's instructions.
Have heating equipment, flues, and chimneys cleaned and inspected every year by a qualified professional.
Keep combustible and flammable materials at least three feet away from heating equipment.
Install and maintain carbon monoxide (CO) alarms to avoid the risk of CO poisoning.
Any alternative heating sources need to be turned off before leaving the vicinity. Do not leave them on unattended!